This site uses cookies 🍪 sadly not ones with delicious Whittaker's chocolate chips. But they will give you a much more delicious online experience. Choose 'Agree' to accept cookies and continue , or learn about our cookie and privacy policies.
We've recently been made aware of an email scam that misuses our trusted brand to deceive the public. We have taken all practicable legal steps to attempt to shut these people down, reported this scam to Netsafe, and posted information about the scam on our social media to warn people not to engage with this. We are sorry if you have been affected.
Below is a list of social media and email scams that impact us and our Chocolate Lovers. This page is designed to help you identify scamming activity and is updated when a new scam is reported to and verified by our team. There may be other active scams that aren't listed below.
The three key things to remember are:
Whittaker's will never contact you out of the blue and ask you to be a taste tester or to complete an opinion survey.
Avoid calling back international numbers you don't recognise and if you are unsure if the call is genuine, the best thing you can do is hang up.
All official Whittaker's communications come from info@whittakers.co.nz or

edm@whittakers.co.nz. Check the sender's email address of any email that you're not sure of.
Below is a list of known scam content that is being circulated. If you're not sure what you've received is genuine, contact us.
Facebook Competitions
This fake Facebook account, and competition using our imagery, has been reported on Facebook. The account has been reported. The link takes users through to a fake competition. Our competitions will always be posted on our genuine Whittaker's Chocolate Lover Facebook page.
Taste testers
This content has been reported by direct email and sponsored Instagram story.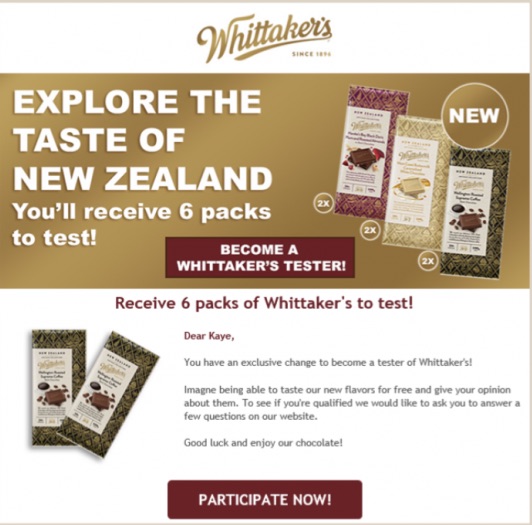 Opinion survey
This scam has been reported as a direct email.
Privacy policy
Get in touch